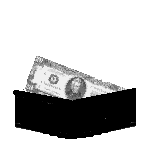 Before I became a Christian, I used to say,"What is money for, if not to spend." You make money so that you can buy what you want, right? WRONG! You can do the following three things with money:
You can spend it;
You can save it;
Or you can give it away.
God wants us to take care of our family first. Then, he wants us to be generous givers. We are to spend money to provide for our family's needs and the occasional wants or desires. Then, we need to save some money, so that we can provide for ourselves when we are no longer able to work and maybe leave some for our children's children. Finally, we are to be generous givers.
I am not saying that you should only give when you have fully funded your retirement or when you are retired. God always wants us to give the first fruits to Him through His church. We give a tithe to Him and we live on the 90%. Once we are debt-free, we can save for our retirement and save for our children's education.
Then, we can give more than a tenth back to God. However, as we go through life, we will see many opportunities to provide for "the least of these". God will put those opportunities in front us. It can be a homeless person, a single parent, a child in a foreign nation, or someone in your local church who is in some need, etc. If we can, we are to take some of God's provision which has been entrusted to us and share it with these people. This does not only include money. It can be our time. So, money is not just for spending. Money is for saving and sharing as well.